Why to choose Armenia as a travel destination?
Let me tell you one thing: we do really have a lot to offer, but today we gonna discuss FOOD!
I know, that's one of the main reasons why most of us travel. Being one of the rare omnivorous spices in the world we like those food experiments while on the road.
Paving my path in travel industry almost 10 years, I heard tons of compliments describing how flavorsome Armenian food is. I had a guest from USA who kept feeding his wanderlust almost all year round and had been in almost more than 100 countries told me. "I never saw this much variety anywhere else in the world."
Yes, Sir. We have splendid food here.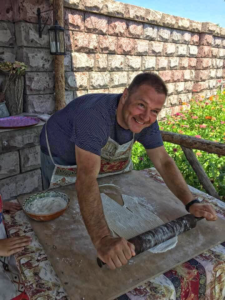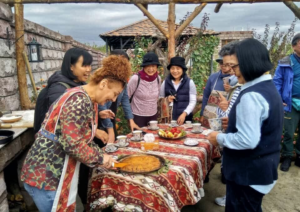 FOODbacks from our travelers.
I guess it would be interesting for you to read the reviews of other travelers once ingesting Armenian flavors.
I talked to my colleagues to bounce a few ideas off them. Let's see what other travelers think of Armenian food.
I gave it another name, let's call FOODback.
We have no firm conclusions about food in Armenia: it's a paradise both for vegetarians and meet lovers.
Food is arguably as much a part of a country's culture as language or religion.
I collect FOODbacks from my guide friends who work with different nationalities from all over the world.
I could easily call this article "Orgasmic food in Armenia". In future I guess we are going to see that article either.
So let's dive in Armenian food.
"In Armenia food is gastroorgasmic (I don't even know is there such a word in English or not)" or as French described. "C'est orgasmiquement bon"– Russian and French tourists
Here in Armenia we make tabbouleh in a bit different way, so after tasting our American traveler noticed. "Tabbouleh here is the best I have ever eaten, even better than in Lebanon. I wish I could organize its export from here to the US!".
Armenian dolma effect: "We don't have any more space in our stomach։ more you eat, more you want." – Japanese travelers.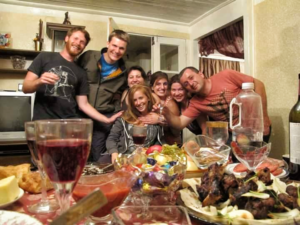 Those Armenian tomatoes: "Your tomatoes are so tasty, that we think to buy one more suitcase to take them with us".-Russian travelers
The same happened to my French speaking friend. Her guests loved tomatoes so much that at the end after buying tomatoes she had to provide her shoe box for transporting with them.
"Armenia spoiled us. Nowhere else in the world we can eat apricots and BBQ". -American travelers
"Have no idea how long it should pass for me to forget the taste of Armenian apricot and again to say that Spanish ones are good enough".-Spain
"I didn't know that eggplants can be so tasty."- Netherlands
This one from Brazil, "I hate Armenia", announced very beautiful model-size guest. "Why?, wondered the guide. "It's because I have to diet when I go back home, that's why I hate Armenia already."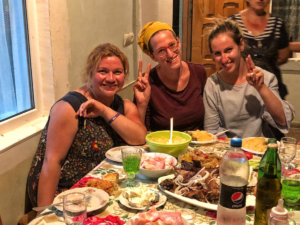 This one is so funny, my Spanish speaking friend is telling. This happened in the wine region of Armenia, Areni village. They stop to grab some peaches. After biting one the Spanish lady exclaimed. "The last time I was so happy it was when I divorced my husband. "
Another Spanish traveler was always happy to have some more bite of Armenian desert by saying, "I always have extra space in my stomach for Armenian pakhlava."
Did you book your travel according to cherry season in your destination? I bet you didn't. But our Jewish travelers did after spending their wonderful holidays here and testing Armenian cherries they plan next holidays according to cherries' season.
In Armenia according to traditions of funeral we eat dish called "khashlama" (meat and potatoes). Once our travelers loved it so much that they asked the guide to take them to funeral with him to enjoy khashlama one more time.
We have this from Spain. "Armenian cuisine tastes like Mediterranean with a touch of Eastern colour".
"I forget how real fig and apricot taste. Do you sell extra stomach here?"
You don't even need to bet on something to eat 19 pieces of dolma. It's extremely enticing when you are around the table with Armenians. That's what happened to one of our travelers from Denmark.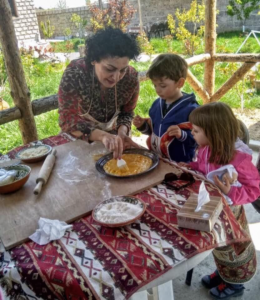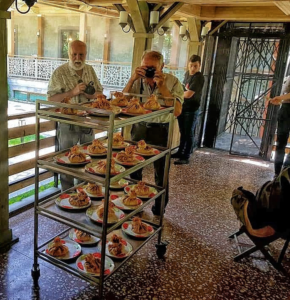 Some of them even packed dolma to take back home.
Some other colleague is recalling.
"Once we did BBQ ourselves and ate it. Right after I was interested how was it?" They said. "It was like condensed milk…". I was surprised. They said. "Sorry, couldn't find any other word to describe."
And the last but not the least had been noticed by Russian travelers. "Not only the food is tasty in Armenia but the air also, even garbage smells good".
Here I stop myself until you are not getting hungry. But even if you do, add Armenia to your bucket list of destinations to visit and we will make sure you build up good relationships with Armenian cuisine.
Don't really remember who said this once but I feel him saying this.
Travel is a full time job being a drug addict.
See you in Armenia, to make you food addict.